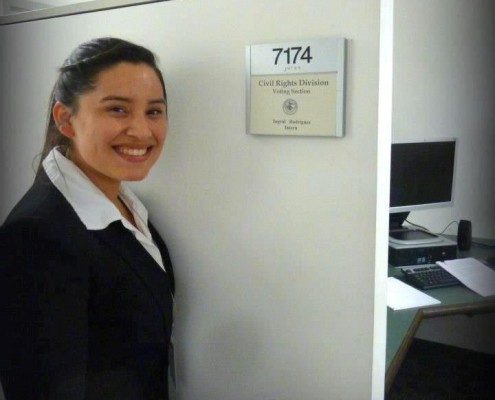 Interning at the US Department of Justice
"My internship at the World Resources Institute and my whole Washington experience helped prepare me for my career in green technology and business, where every day I apply the environmental and political skills I learned in Washington."
Alex Fay
Internships with Resume Impact
A DC internship stands out on a West Coast resume. For UCLA students with interests in law, government, politics, foreign or domestic policy, international development, media, the arts, and more, Washington, DC is the place to be.
Endless Possibilities
Our nation's capital is host to thousands of governmental and non-governmental agencies and organizations; advocacy organizations; think tanks; professional and business lobbying and policy groups; media outlets; research firms; museums and archives, etc., many of which offer internship opportunities for undergraduates.
What do the internship courses fulfill?
All UCLA students enroll in two 4-unit UCLA courses for the internship:
Political Science/History/Sociology M195DC (4 units, Pass/No Pass)
Any departmental 195CE internship course (4 units, Letter Grade)
The internship fulfills requirements for Community Engagement and Social Change, Disability Studies and Labor and Workplace Studies .
The internship also fulfills one quarter of the Public Affairs Major's  Capstone Experiential Learning Series.
Guidance and Support Throughout the Search
Once you have been admitted to the QiW program, the second phase begins: internship placement. Staff, here and in our Washington, DC office, will support you through the process of identifying potential internships that are relevant to your research interests, preparing professional internship applications,  interviewing effectively, and sorting through offers.
Explore Internship Search Resources
Students can use many resources listed below to find great internships.