The goal of JusticeCrops, an AmeriCorps Program, is to provide equal access to justice for those who cannot afford an attorney. Through the Los Angeles Superior Court, students are trained and supervised by attorneys. After completing 300 hours (60 hours are dedicated to training/preparation) students are eligible for an education award or "service scholarship," which ranges from $1,300-$1,700. Academic credit is also available for UCLA students through the 195CE internship courses.
Summer 2022 and 2022-2023 Academic Year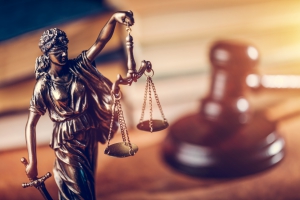 PARTNERSHIP WITH THE LOS ANGELES SUPERIOR COURTS
Since 2004, UCLA's Center for Community Engagement has partnered with the superior courts to provide students with the opportunity to be actively involved in the judicial process. UCLA students provide assistance to self-represented litigants in court-based, self-help programs throughout Los Angeles County. There are several pre-selected sites specializing in family law, housing, landlord/tenant disputes, or small claims. By receiving hands-on experience with the public and court attorneys, students get the professional training that prepares them for a future in public service.
PARTNER ORGANIZATIONS
AMERICORPS DAYS OF SERVICE
As part of Corps Members service in the community, students also participate in at least one of two annual AmeriCorps Days of Service, which are coordinated to commemorate Martin Luther King, Jr. Day and Cesar Chavez Day. Projects in the past have included beautification of shared city spaces, marches, and rehabilitation of schools or parks through painting murals and planting gardens.
SHADOW A JUDGE DAY
Each year, the superior court gives students the opportunity to shadow judges for a day. Students are able to get a close-up look at the court procedures in criminal, juvenile, drug cases at a courthouse where they do not serve.
TRAINING AND NETWORKING OPPORTUNITIES
Throughout the academic year, students are provided opportunities for extensive training in family, housing and small claims. In addition to this, students are able to get the unique opportunity to attend seminars and training on a range of topics which can include, but are not limited to the following:
Civil Rights

Immigration

Human Trafficking

Domestic Abuse
Luisa Gomez (2016)
"JusticeCorps is arguably the best program to be involved in because it really gives you an introduction not only to legal terms and dealing with attorneys but it also helps you associate with clients or litigants in our case. It really gives you the opportunity to help people out who need it. Apart from that, it comes with professional perks, like networking and being able to shadow a judge and interacting with attorneys. Overall, you learn about how the court works, which is really valuable."Where are they now? After serving as a corps members in 2016, Gomez returned in 2017 to serve as a student representative to UCLA.
Kim Kwan (2015)
"I was apart of JusticeCorps for two out of the three years I was at UCLA. I volunteered as a JusticeCorps member my first year, and I was a University Representative the next. It was a big part of my undergraduate life. In my role as a Representative, one of the things I told my members at the first meeting was, 'We are going to see more of each other than people in our family this year.' That statement was certainly true for me because I was an out of state student. I loved my members and being part of the JusticeCorps family." Where are they now? Kwan attends Georgetown School of Law and is expected to receive her JD in 2020.
Michelle Polanco – JusticeCorps Fellow (2014)
"Before applying, I thought JusticeCorps was helping litigants complete forms – and we definitely do a lot that. But it's a lot more than just completing forms. Seeing the empowerment in people or just the way they speak about what they're doing at the end of something [their meeting] that's something that I didn't expect. It's such a joy, and fulfilling to take part in that." Where are they now? Polanco currently serves as a Research Intern at the U.S. Department of Justice.