The Astin Community Scholars Program supports the work of a select group of undergraduates who will conduct research in partnership with a community-based organization for an entire academic year. Scholars enroll in credit-bearing upper division courses each quarter that help them to better understand the process of conducting community-engaged research. Each Scholar receives a financial award to design and implement a research project meant to aid the partner organization's capacity to serve their communities.
The program is named for visionary UCLA higher education scholars Helen ("Lena") and Alexander ("Sandy") Astin to honor their nationally recognized body of research in the area of civic engagement.
Remembering Helen
"

Lena

"

Astin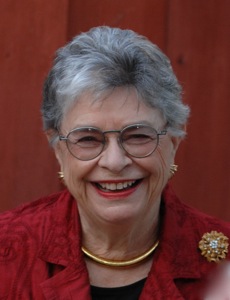 The Center for Community Engagement joins the greater UCLA and higher education communities in honoring the life Helen S. (Lena) Astin. Lena was a pioneer in the research of student experiences while in college, specifically on issues related to women, equity, spirituality, and civic engagement. She was a prolific writer, having authored 14 books among her vast accomplishments in a career that spanned over 50 years. But to the students who have been chosen as Astin Community Scholars over the last 7 years, Lena personified what an educator should be: someone who deeply cared about students.
Her insight, encouragement, and warmth were tremendously meaningful for these young scholars learning how to incorporate their passions into rigorous inquiry. And the feeling was mutual — Lena always had a big smile on her face while listening to the students talk about their research. All of us who knew and worked with Lena have been honored by her company. She will be so greatly missed. Our thoughts go out to Sandy, their children, and their grandchildren.
To learn more about Lena's life and career, and to share your own memories of her, please visit the Higher Education Research Institute's Tribute  to Lena.
Chancellor Gene Block on the Astin Program
Dear Colleagues:
As you know, civic engagement is one of UCLA's high priorities. So I am pleased to announce an innovative new program that provides scholarships for undergraduate students who participate in civic engagement research with a community partner and a faculty mentor.
With funding from the UCLA Foundation, we have created a Civic Engagement Scholars Program, which builds on UCLA's success in providing an academic context to develop students' passions, interest in public service and leadership skills. The program will be administered by the UCLA Center for Community Learning and is named for emeriti faculty Helen S. and Alexander W. Astin. The Astins are visionary scholars with deep UCLA roots and are widely recognized for their seminal research on how civic engagement experiences enhance undergraduate education.
Please inform students about this scholarship opportunity.
Sincerely,
Gene D. Block
Chancellor
The Astin Community Scholars Program funds a select group of upper-division students who demonstrate a strong, ongoing commitment to community engagement and social change. The program is named for visionary UCLA higher education scholars Helen ("Lena") and Alexander ("Sandy") Astin to honor their nationally recognized body of research in the area of civic engagement. This year, in partnership with the UCLA Labor Center, Labor Studies, and the Institute for Research on Labor & Employment, students chosen as Astin Scholars will collaborate with graduate students and community stakeholders and advocates on applied research projects to explore the unique nature of collaboration between social justice practitioners on both sides of the US-Mexico border working to address exploitation, health and humanitarian needs, and social and legal discrimination across migrant journeys. The types of research conducted will vary, but will likely include collectively identifying key research and policy priorities, collecting and interpreting data, and articulating migrant-informed solutions and a framework to sustain community leadership and solidarity across borders.
Fall quarter will be spent learning about the practice of conducting community-engaged research. In winter quarter, undergraduates will team with their research partners to design the projects and begin collecting data. Spring quarter will be dedicated to analyzing data collected and sharing the teams' findings. Each quarter, undergraduates will enroll in a 4-unit upper division course. The chosen recipients participating receive a research scholarship during the year. Applicants must have a cumulative GPA of 3.0 and have junior or senior standing in the fall of the year they begin the program.
The 2020-2021 cohort has been selected. Please check back in April 2021 for 2021-2022 application information.
Questions about the application or the program in general can be sent to Dr. Douglas Barrera at dbarrera@college.ucla.edu. Dr. Barrera is also happy to meet with any prospective applicants to discuss their research ideas. Please email him for an appointment.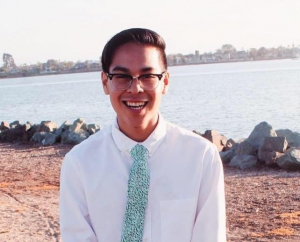 Sebastian Aguilar Tinajero
Class of 2022
Sebastian is majoring in Political Science.
UCLA Community Engagement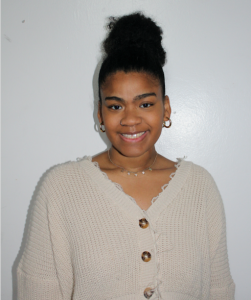 Kayleah Kellybrew
Class of 2021
Kayleah is majoring in Political Science concentrating in American Politics with an Education Studies minor.
UCLA Community Engagement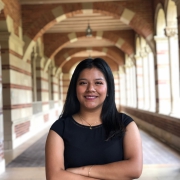 Guadalupe Martinez
Class of 2021
Guadalupe is majoring in Physiological Science with a Global Health minor.
UCLA Community Engagement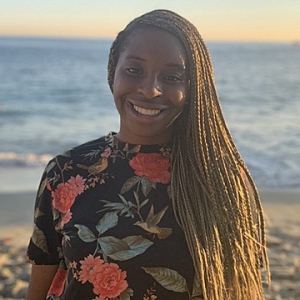 Uwaila Omokaro
Class of 2021
Uwaila is majoring in Sociology with a Public Health minor.
UCLA Community Engagement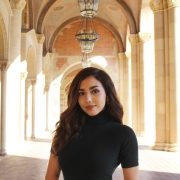 Fernanda Soto
Class of 2021
Fernanda is majoring in Sociology and double minoring in Labor Studies and Public Affairs.
UCLA Community Engagement